The club was formed in 1987 by author Dave Worrall, as he felt
there was no organisation at that time that published a magazine
to meet the demands of the 007 collector.
Since then the club has gone from strength to strength,
and now has many readers world-wide.
The magazine features articles about both new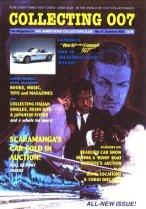 and old Bond collectibles, offers a free classified
ads section, publishes members articles, and reviews
what's new in the world of James Bond merchandise.
Although not a 'fan' club, we do have access to the movie
world, and often feature on-set reports, etc, whenever possible.
We are the ONLY society in the world dedicated to the

007collector -
PO Box 1570, Christchurch, Dorset, BH23 4XS, England
TEL: 0870 4423007 (10.30am-6pm Mon-Fri)
Fax: 01425 273068 (24 Hour)