KLIK >>>>> SONS OF ANARCHY SONG FRANKY PEREZ
Photos For Ray : 1111, 2222, 3333, 4444, 5555 , 6666
Voor Anette en Bert op vakantie in USA Ray to Roco, what a nice gesture !
Na 30 jaar sta ik voor een grote uitdaging en heb ik mijn oude liefde, de dwarsfluit, weer terug !!
sheet music flute solo NIWS (van oor tot papier) ( from ear down on paper...) of het goed is ??
RAY THOMAS FLUTE (MOODY BLUES)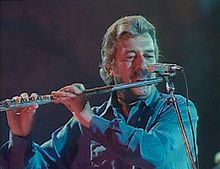 (downloaden)
mijn dwarsfluitvoorbeeld in 1971 en uitdaging in 2010. ( My flutehero in 1971 and this part
Kan ik dit weer na ong 30 jaar ????? is my challenge for 2010. Can I play the
flute again after 30 years and play this solo
before the Moodies Concert on sept 28th????)